Low-Earth Orbit Environmental Observation Satellite "Ten-Koh 2"
The purpose of "Ten-Koh 2" developed by our Okuyama Laboratory is to acquire useful data for future space development, such as various environmental observations in low earth orbit and space demonstrations of next-generation communication devices.
It is scheduled to be launched from the Tanegashima Space Center, the launch vehicle will be mounted on the first HTV-X rocket developed by JAXA .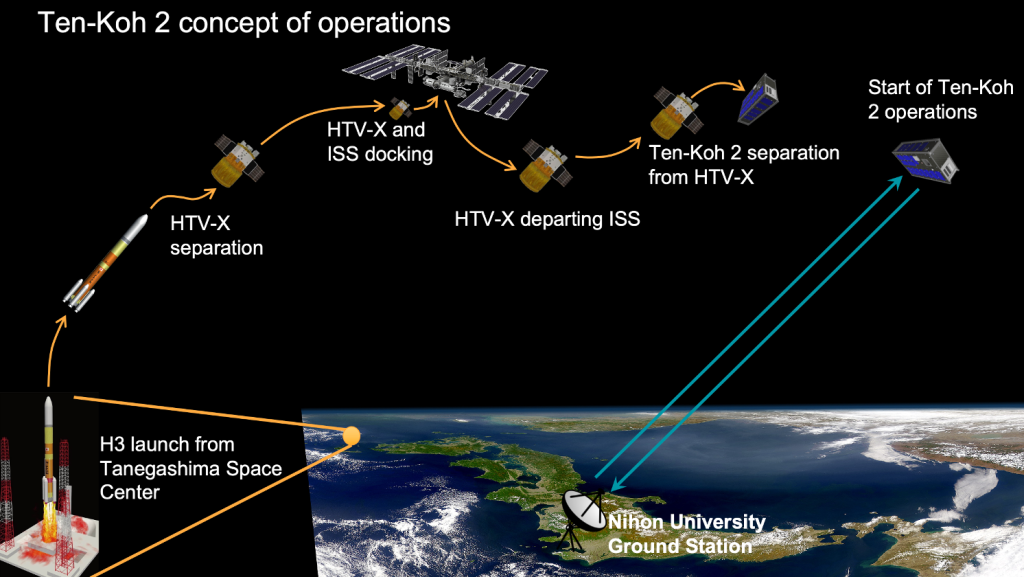 Main mission objective
Continuous operation of linear transponder (2 days)
We aim to operate linear transponders, which are often operated for limited hours, for a maximum of two days. Continuous operation has the advantage of allowing amateur radio operators around the world to acquire data from this satellite.
Downlink of illustration, music and video data
We are planning space entertainment for this satellite, which is rare for a university satellite. The purpose is to create content jointly with Nihon University College of Art and to make many people feel the familiarity of space development and amateur radio technology.
Demonstration of microwave band communication technology
The purpose of this project is to promote the establishment and spread of microwave band satellite communication methods by performing CW beacon communication using the microwave band, which has little track record of use.
Technical demonstration of high-speed data transfer
In this demonstration, we will use a high-speed data communication device developed by JAMSAT (Japan Association of Amateur Satellites) . We will demonstrate how fast data can be transmitted with 4FSK 38.4kbps communication and how much the error is with the theoretical value. Main mission data will be downlinked using this communication device.
It will be equipped with a camera developed by Cheng Kung University camera payload development team. This camera takes pictures and downlinks in several shooting patterns.
Observation of space environment degradation of advanced space materials
It carries advanced space materials and observes the deterioration of materials from various sensor data such as strain sensors.
Geospace observation by high-energy charged particle detector
It carries a charged particle instrument (Liulin) to observe charged particles from deep space.
Satellite specification
It is a 6U satellite of 30 x 20 x 10 (cm). The surrounding area is equipped with solar cells to supply operating power. This satellite consists of a structural part, a thermal control part, a satellite control part, a power supply part, a communication control part, and a mission part.
Size: TBD
Radiation patterns and Link Budget of this satellite .
https://drive.google.com/drive/folders/109MJRoTEOFZK-9U7pwffgOc1BjzoCIr0?usp=sharing